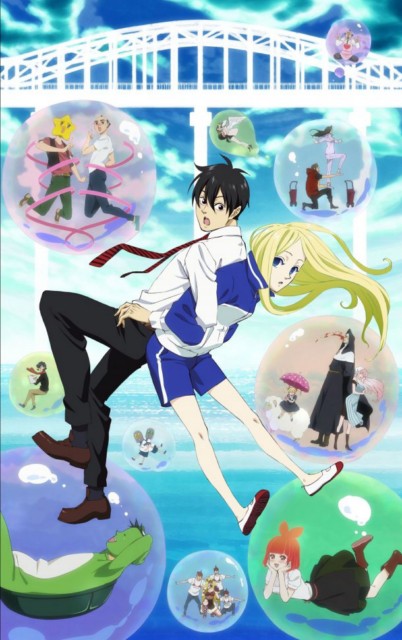 Información:
Título: Arakawa Under the Bridge x Bridge
Género: Romance, Comedia.
Estudio: SHAFT
Año: 2010.
Episodios: 13/13
Año: 2010
Idioma: Japonés
Subtítulos: Español
Peso: 90 y 50 Mb
Formato: Mp4
Resolución: 1280x720
Calidad: Excelente
Server: Fileserve
Sinopsis:
La segunda temporada de Arakawa Under The Bridge, donde se presentaran nuevos problemas ante la extraña relación entre Kou y Nino...
El protagonista es Ichinomiya Kou, un chico al que, desde pequeño, su familia enseñó a no contraer deudas con nadie. Todo lo hace por sí mismo, sin ayuda de nadie. Un día unos niños le robaron los pantalones, y se los dejan colgados en la cima de un puente sobre un río. Sin pedir ayuda a nadie, intenta recoger sus pantalones. Llega a la cima, y entonces se cae al río. Cuando pensaba que iba a morir, lo rescata Nino, una chica que dice ser alienígena. No sabe cómo pagarle la deuda de haberle salvado la vida. Ella le pide, a cambio, que se convierta en su novio. A partir de ahora vivirá con ella... debajo del puente...
Capítulo 1
http://www.fileserve.com/file/MDt8tF2
Capítulo 2
http://www.fileserve.com/file/KdHYPvZ
Capítulo 3
http://www.fileserve.com/file/3nhA9d4
Capítulo 4
http://www.fileserve.com/file/eKQGfMJ
Capítulo 5
http://www.fileserve.com/file/t4KEvXd
Capítulo 6
http://www.fileserve.com/file/59fAHvA
Capítulo 7
http://www.fileserve.com/file/ZrhwNKq
Capítulo 8
http://www.fileserve.com/file/v7j8zzx
Capítulo 9
http://www.fileserve.com/file/9srdcNv
Capítulo 10
http://www.fileserve.com/file/QaxTFkY
Capítulo 11
http://www.fileserve.com/file/Ur7brVp
Capítulo 12
http://www.fileserve.com/file/5zP9W4S
Capítulo 13
http://www.fileserve.com/file/hj8ajgR