Top 500 Classic Rock Songs [5 CD's] (2011)
---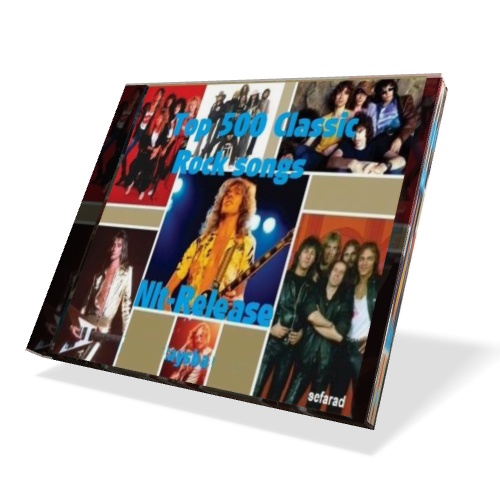 Rock | 192 kbps | 3.02 GB | 23130811Sfrd
CD 1:
01. Led Zeppelin – Stairway To Heaven
02. The Rolling Stones – Satisfaction
03. Derek and the Dominos – Layla
04. The Beatles – A Day In The Life
05. The Who – Won't Get Fooled Again
06. The Doors – Light My Fire
07. Pink Floyd – Comfortably Numb
08. The Eagles – Hotel California
09. Bruce Springsteen – Born To Run
10. John Lennon – Imagine
11. Led Zeppelin – Rock And Roll
12. The Who – Baba O'Riley
13. The Rolling Stones – It's Only Rock 'N Roll
14. Cream – White Room
15. The Beatles – Yesterday
16. Jimi Hendrix – Purple Haze
17. Queen – Bohemian Rhapsody
18. Grateful Dead – Truckin'
19. Pink Floyd – Money
20. Bob Dylan – Like A Rolling Stone
21. Moody Blues – Nights In White Satin
22. Led Zeppelin – Kashmir
23. The Who – Behind Blue Eyes
24. Yes – Roundabout
25. The Doors – Roadhouse Blues
26. Jefferson Airplane – White Rabbit
27. The Beatles – Hey Jude
28. Jethro Tull – Aqualung
29. Aerosmith – Dream On
30. The Rolling Stones – Jumping Jack Flash
31. Led Zeppelin – Whole Lotta Love
32. Lynyrd Skynyrd – Freebird
33. Pink Floyd – Wish You Were Here
34. The Kinks – You Really Got Me
35. Kansas – Carry On My Wayward Son
36. Grateful Dead – Casey Jones
37. Free – All Right Now
38. Boston – More Than A Feeling
39. The Beatles – Let It Be
40. Eric Clapton – Cocaine
41. Led Zeppelin – Black Dog
42. The Doors – L.A. Woman
43. The Who – My Generation
44. The Rolling Stones – Brown Sugar
45. Cream – Sunshine Of Your Love
46. Deep Purple – Smoke On The Water
47. Jimi Hendrix – Hey Joe
48. John Lennon – Instant Karma!
49. Animals – House of the Rising Sun
50. Steppenwolf – Born To Be Wild
51. Elton John – Goodbye Yellow Brick Road
52. The Beatles – While My Guitar Gently Weeps
53. The Doors – Touch Me
54. The Rolling Stones – Sympathy For the Devil
55. Pink Floyd – Another Brick in the Wall
56. Led Zeppelin – Communication Breakdown
57. Jimi Hendrix – Foxy Lady
58. Aerosmith – Walk This Way
59. The Who – Pinball Wizard
60. Paul McCartney – Maybe I'm Amazed
61. The Police – Every Breath You Take
62. Elton John – Bennie And The Jets
63. Fleetwood Mac – Rhiannon
64. David Bowie – Changes
65. Bob Dylan – Lay Lady Lay
66. Bruce Springsteen – Dancing In The Dark
67. Van Morrison – Brown Eyed Girl
68. Jimi Hendrix – Fire
69. Rod Stewart – Maggie May
70. The Doors – Break On Through
71. Don McLean – American Pie
72. Led Zeppelin – Thank You
73. Pink Floyd – Hey You
74. Jefferson Airplane – Somebody To Love
75. The Beatles – Something
76. Allman Brothers Band – Ramblin' Man
77. Tom Petty & the Heartbreakers – Runnin' Down a Dream
78. Jimi Hendrix – All Along The Watchtower
79. Crosby, Stills, Nash – Woodstock
80. Grand Funk Railroad – We're An American Band
81. The Kinks – Lola
82. Manfred Mann – Blinded By The Light
83. The Rolling Stones – Gimme Shelter
84. Fleetwood Mac – Go Your Own Way
85. The Beatles – Sgt. Pepper's Lonely Hearts Club Band & With A Little Help From My Friends
86. Emerson, Lake and Palmer – Lucky Man
87. Eric Clapton – Wonderful Tonight
88. Procol Harum – Whiter Shade Of Pale
89. Eagles – Heartache Tonight
90. Grateful Dead – Touch of Grey
91. The Beatles – All You Need Is Love
92. Queen – We Will Rock You & We Are The Champions
93. David Bowie – Suffragette City
94. Pink Floyd – Brain Damage & Eclipse
95. Joe Walsh – Rocky Mountain Way
96. Creedence Clearwater Revival – Fortunate Son
97. The Who – Who Are You
98. Janis Joplin – Me And Bobby McGee
99. The Beatles – The Long And Winding Road
100. Electric Light Orchestra – Don't Bring Me Down

CD 2:
01. Elton John – Daniel
02. The Beatles – Revolution
03. Yardbirds – For Your Love
04. Bachman Turner Overdrive – You Ain't Seen Nothing Yet
05. Paul Mccartney & Wings – Band on the Run
06. Van Morrison – Moondance
07. Blue Oyster Cult – Don't Fear The Reaper
08. The Rolling Stones – Ruby Tuesday
09. Doobie Brothers – China Grove
10. Emerson, Lake and Palmer – Karn Evil 9
11. The Who – Squeeze Box
12. Allman Brothers Band – Jessica
13. Zombies – Time of the Season
14. Pink Floyd – Welcome To The Machine
15. The Beatles – Come Together
16. Led Zeppelin – Going To California
17. The Doors – Hello, I Love You
18. The Guess Who – American Woman
19. Aerosmith – Sweet Emotion
20. Crosby, Stills, Nash & Young – Ohio
21. Iron Butterfly – In-A-Gadda-Da-Vida
22. The Beatles – Eleanor Rigby
23. Neil Young – Old Man
24. Supertramp – The Logical Song
25. Joe Walsh – Life's Been Good
26. Fleetwood Mac – Don't Stop
27. Electric Light Orchestra – Telephone Line
28. Cream – Crossroads
29. The Beatles – Day Tripper
30. ZZ Top – Legs
31. Bad Company – Rock 'n' Roll Fantasy
32. The Rolling Stones – Honky Tonk Woman
33. Traffic – Low Spark Of The High-Heeled Boys
34. The Beatles – Help!
35. Elton John – Crockodile Rock
36. Eric Clapton – Let It Rain
37. George Harrison – What Is Life
38. Creedence Clearwater Revival – Down On The Corner
39. Foreigner – Feels Like The First Time
40. David Bowie – Ziggy Stardust
41. Genesis – Home By The Sea
42. The Eagles – Life In The Fast Lane
43. Black Sabbath – Paranoid
44. Styx – Come Sail Away
45. Byrds – Turn Turn Turn
46. Bruce Springsteen – Glory Days
47. Edgar Winter Group – Free Ride
48. George Harrison – When We Was Fab
49. Head East – Never Been Any Reason
50. Van Morrison – Domino
51. Crosby, Stills & Nash – Suite Judy Blue Eyes
52. Queen – Crazy Little Thing Called Love
53. Emerson, Lake and Palmer – From The Beginning
54. Spencer Davis Group – Gimme Some Lovin'
55. The Doors – Love Her Madly
56. The Rolling Stones – Under My Thumb
57. Led Zeppelin – Immigrant Song
58. Yardbirds – Heart Full Of Soul
59. Chicago – Saturday In The Park
60. Pink Floyd – Time
61. The Beatles – In My Life
62. Grand Funk Railroad – I'm Your Captain & Closer To Home
63. The Eagles – Take It Easy
64. Crosby, Stills & Nash – Teach Your Children
65. Cat Stevens – Morning Has Broken
66. The Who – Long Live Rock
67. Dire Straits – Money For Nothing
68. Fleetwood Mac – Tusk
69. Ted Nugent – Cat Scratch Fever
70. Badfinger – Day After Day
71. Steve Winwood – Higher Love
72. Bruce Springsteen – Born in the USA
73. Kansas – Dust in the Wind
74. Elton John – Rocket Man
75. The Guess Who – No Time
76. Steve Miller Band – Fly Like An Eagle
77. Billy Joel – Piano Man
78. Grand Funk Railroad – Some Kind Of Wonderful
79. The Rolling Stones – You Can't Always Get What You Want
80. Jethro Tull – Locomotive Breath
81. Van Halen – Jump
82. Cream – Strange Brew
83. Janis Joplin – Piece Of My Heart
84. The Doors – Love Me Two Times
85. The Who – Bargain
86. Moody Blues – Your Wildest Dreams
87. The Cars – Just What I Needed
88. Jackson Browne – Running On Empty
89. Neil Young – Cinnamon Girl
90. Doobie Brothers – Listen To The Music
91. Led Zeppelin – Heartbreaker & Livin' Lovin' Mad
92. ACDC – T.N.T.
93. Queen – Keep Yourself Alive
94. Creedence Clearwater Revival – Lodi
95. Bob Dylan – Tangled Up In Blue
96. The Firm – Radioactive
97. The Beatles – Eight Days A Week
98. Electric Light Orchestra – Evil Woman
99. Boston – Rock & Roll Band
100. Led Zeppelin – Ramble On

CD 3:
01. Kinks – All Day And All Of The Night
02. Peter Frampton – Show Me The Way
03. Doobie Brothers – Long Train Running
04. The Beatles – Ticket To Ride
05. The Beach Boys – Good Vibrations
06. Lynyrd Skynyrd – Gimme Three Steps
07. Tom Petty & the Heartbreakers – Breakdown
08. ZZ Top – Tush
09. Heart – Crazy On You
10. George Harrison – Got My Mind Set On You
11. The Rolling Stones – Angie
12. Pink Floyd – Us and Them
13. Eric Clapton – After Midnight
14. Kiss – I Wanna Rock and Roll All Night
15. The Guess Who – These Eyes
16. ACDC – You Shook Me All Night Long
17. The Beatles – Get Back
18. Kinks – Well Respected Man
19. The Who – I Can't Explain
20. The Beatles – Golden Slumbers Melody
21. Chicago – Colour My World
22. Byrds – Mr. Tambourine Man
23. Bruce Springsteen – Tunnel Of Love
24. Animals – We've Gotta Get Out Of This Place
25. Steely Dan – Do It Again
26. Elton John – Honkey Cat
27. Fleetwood Mac – The Chain
28. Cheap Trick – Surrender
29. Creedence Clearwater Revival – Bad Moon Rising
30. Ted Nugent – Stranglehold
31. The Who – 5 15
32. The Beatles – Sun King Melody
33. Blue Oyster Cult – Godzilla
34. Moody Blues – Question
35. Blind Faith – Can't Find My Way Home
36. The Rolling Stones – Street Fighting Man
37. Eric Clapton – Lay Down Sally
38. Alice Cooper – No More Mr. Nice Guy
39. David Bowie – Space Oddity
40. Buffalo Springfield – For What It's Worth
41. The Doors – Riders On The Storm
42. Allman Brothers Band – Whipping Post
43. The Band – The Weight
44. The Beatles – Twist And Shout
45. Strawberry Alarm Clock – Incense and Peppermints
46. Rascals – People Got To Be Free
47. Steely Dan – Reeling In The Years
48. Seals & Croft – Summer Breeze
49. Bob Dylan – Shelter From The Storm
50. Creedence Clearwater Revival – I Heard It Through The Grapevine
51. Led Zeppelin – Trampled Under Foot
52. Troggs – Wild Thing
53. Electric Light Orchestra – Turn To Stone
54. Mountain – Mississippi Queen
55. Cat Stevens – Peace Train
56. Country Joe and the Fish – Fixin' to Die Rag
57. Bad Company – Feel Like Making Love
58. Heart – Magic Man
59. The Beatles – Here Comes The Sun
60. Yes – Long Distance Runaround
61. Elton John – Your Song
62. Fleetwood Mac – Say You Love Me
63. The Doors – People Are Strange
64. Dire Straits – Sultans Of Swing
65. Bruce Springsteen – Hungry Heart
66. The Beatles – Stawberry Fields Forever
67. Steve Miller Band – Jet Airliner
68. David Bowie – Young Americans
69. George Harrison – All Those Years Ago
70. The Who – Eminence Front
71. Creedence Clearwater Revival – Have You Ever Seen The Rain
72. The Beatles – She Loves You
73. Eric Clapton – Tears In Heaven
74. The Eagles – Already Gone
75. Byrds – Eight Miles High
76. Doobie Brothers – Black Water
77. Todd Rundgren – I Saw The Light
78. Badfinger – Come And Get It
79. Young Rascals – Good Lovin
80. Moody Blues – Tuesday Afternoon
81. The Rolling Stones – Heartbreaker
82. Steppenwolf – Magic Carpet Ride
83. Led Zeppelin – Over The Hills And Far Away
84. Lynyrd Skynyrd – Sweet Home Alabama
85. Chicago – 25 Or 6 To 4
86. Steely Dan – Rikki Don't Lose That Number
87. The Guess Who – Laughing
88. The Rolling Stones – Paint It Black
89. The Who – I Can See For Miles
90. The Beatles – I Want To Hold Your Hand
91. Alice Cooper – I'm Eighteen
92. Byrds – So You Want To Be A Rock 'n' Roll Star
93. Nazareth – Love Hurts
94. Foghat – Fool for the City
95. Bob Dylan – Blowin' In The Wind
96. Styx – Renegade
97. Rush – New World Man
98. The Who – The Kids Are Alright
99. Kinks – Tired Of Waiting For You
100. The Beatles – Paperback Writer

CD 4:
01. Creedence Clearwater Revival – Green River
02. Bad Company – Cant Get Enough of Your Love
03. Electric Light Orchestra – Fire On High
04. The Band – Up On Cripple Creek
05. Deep Purple – Hush
06. James Gang – Walk Away
07. Argent – Hold Your Head Up
08. Yes – Owner Of A Lonely Heart
09. Elton John – Levon
10. Led Zeppelin – Misty Mountain Hop
11. Crosby, Stills, Nash – Long Time Gone
12. Paul Simon – Kodachrome
13. Bob Seger – Against The Wind
14. The Rolling Stones – Play With Fire
15. The Beatles – Penny Lane
16. Supertramp – Give a Little Bit
17. Steely Dan – FM
18. Bruce Springsteen – Brilliant Disguise
19. Allman Brothers Band – Midnight Rider
20. Derek and the Dominos – Bell Bottom Blues
21. Pink Floyd – Young Lust
22. Moody Blues – Ride My See-Saw
23. Steve Miller Band – Take the Money and Run
24. Uriah Heep – Easy Livin'
25. The Who – My Wife
26. Kinks – Destroyer
27. The Beatles – We Can Work It Out
28. Elton John – Tiny Dancer
29. John Fogerty – Centerfield
30. Zombies – She's Not There
31. Boston – Foreplay, Long Time
32. Bachman Turner Overdrive – Taking Care of Business
33. Cheap Trick – I Want You To Want Me
34. George Harrison – My Sweet Lord
35. Badfinger – No Matter What
36. Animals – Don't Let Me Be Misunderstood
37. Led Zeppelin – Fool In The Rain
38. Jethro Tull – Thick As A Brick
39. The Rolling Stones – Get Off Of My Cloud
40. Creedence Clearwater Revival – Proud Mary
41. Chicago – Beginnings
42. Bruce Springsteen – I'm Going Down
43. The Who – Magic Bus
44. America – Sister Golden Hair
45. The Guess Who – Share The Land
46. Neil Young – Heart of Gold
47. David Bowie – Fame
48. The Beatles – A Hard Day's Night
49. Hollies – Long Cool Woman In A Black Dress
50. Heart – Barracuda
51. Electric Light Orchestra – Livin' Thing
52. Peter Gabriel – Solsbury Hill
53. Styx – Blue Collar Man
54. Pink Floyd – Shine On You Crazy Diamond
55. ZZ Top – Sharp Dressed Man
56. George Thorogood – Bad To The Bone
57. U2 – New Year's Day
58. Procol Harum – Conquistador
59. Elton John – Funeral For A Friend-Love Lies Bleeding
60. Todd Rundgren – Hello It's Me
61. Steely Dan – Josie
62. Cat Stevens – Wild World
63. T-Rex – Bang A Gong Get It On
64. The Who – Going Mobile
65. Genesis – I Can't Dance
66. The Boxtops – The Letter
67. Paul McCartney – Another Day
68. Moody Blues – The Story In Your Eyes
69. Golden Earring – Radar Love
70. The Rolling Stones – Start Me Up
71. James Gang – Funk #49
72. Alice Cooper – School's Out
73. Tom Petty & the Heartbreakers – American Girl
74. Jimi Hendrix – The Wind Cries Mary
75. Nazareth – Hair Of The Dog
76. ZZ Top – La Grange
77. Santana – Oye Como Va
78. Bad Company – Movin' On
79. Van Halen – Running With The Devil
80. Canned Heat – Going Up The Country
81. Steely Dan – Dirty Work
82. Rush – Tom Sawyer
83. Steve Winwood – Arc Of A Diver
84. Yes – Wonderous Stories
85. Kinks – Celluloid Heroes
86. Paul McCartney – Jet
87. Edgar Winter Group – Frankenstein
88. Bob Dylan – Positively 4th Street
89. The Rolling Stones – Tumbling Dice
90. Grand Funk Railroad – Bad Time
91. Badfinger – Baby Blue
92. The Who – You Better You Bet
93. Queen – Fat Bottomed Girls
94. The Beatles – Fat Bottom Girls
95. Eric Clapton – I Shot the Sheriff
96. The Doors – Waiting For The Sun
97. Chicago – Make Me Smile
98. The Guess Who – No Sugar Tonight
99. Led Zeppelin – Good Times Bad Times
100. Bruce Springsteen – Pink Cadillac

CD 5:
01. The Who – Substitute
02. Peter Frampton – Do You Feel Like We Do
03. America – Horse With No Name
04. Elton John – Madman Across The Water
05. Neil Young – Keep on Rocking in the Free World
06. Deep Purple – Highway Star
07. Bad Company – Bad Company
08. Tom Petty & the Heartbreakers – Refugee
09. The Doors – Twentieth Century Fox
10. The Cars – My Best Friend's Girl
11. Grateful Dead – Friend Of The Devil
12. Cream – Badge
13. Jethro Tull – Cross-Eyed Mary
14. Animals – It's My Life
15. Electric Light Orchestra – Strange Magic
16. Blue Oyster Cult – Burnin' For You
17. Traffic – John Barleycorn Must Die
18. Focus – Hocus Pocus
19. Boston – Peace Of Mind
20. Rick Derringer – Rock and Roll Hoochie Koo
21. Thin Lizzy – The Boys Are Back In Town
22. The Rolling Stones – Mother's Little Helper
23. Van Halen – Dance The Night Away
24. Peter Gabriel – In Your Eyes
25. U2 – Sunday Bloody Sunday
26. The Beatles – Norwegian Wood
27. Rod Stewart – You Wear It Well
28. Bob Dylan – Just Like A Woman
29. Stephen Stills – Love the One You're With
30. Led Zeppelin – Dy'er Ma'ker
31. Tom Petty & the Heartbreakers – I Won't Back Down
32. Van Morrison – Wild Night
33. The Rolling Stones – Beast Of Burden
34. Mott The Hoople – All The Young Dudes
35. Queen – Tie Your Mother Down
36. Dire Straits – So Far Away
37. Steve Miller Band – The Joker
38. The Beatles – Please Please Me
39. Peter Frampton – Baby, I Love Your Way
40. Bruce Springsteen – Spirit in the night
41. Outlaws – Green Grass & High Tides
42. Allman Brothers Band – Melissa
43. Creedence Clearwater Revival – Up Around The Bend
44. Norman Greenbaum – Spirit in the Sky
45. Led Zeppelin – All My Love
46. Crosby, Stills & Nash – Wooden Ships
47. The Beatles – Lucy In The Sky With Diamonds
48. Jethro Tull – Living In The Past
49. Deep Purple – Woman From Tokyo
50. Foreigner – Cold As Ice
51. Pete Townsend – Rough Boys
52. Bob Dylan – Knockin on Heavens door
53. The Beatles – Ballad Of John And Yoko
54. The Eagles – Lyin' Eyes
55. Foghat – Slow Ride
56. The Doors – The End
57. Pink Floyd – Speak to Me-Breathe in the Air
58. Cheap Trick – Dream Police
59. Eric Clapton – Layla (Unplugged)
60. ZZ Top – Gimme All Your Lovin'
61. Bob Seger – Turn The Page
62. Thunderclap Newman – Something In The Air
63. Supertramp – Goodbye Stranger
64. Moody Blues – The Voice
65. Golden Earring – Twilight Zone
66. John Fogerty – The Old Man Down The Road
67. The Beatles – Glass Onion
68. Jethro Tull – Bungle In The Jungle
69. Grateful Dead – Sugar Magnolia
70. The Rolling Stones – Waiting On A Friend
71. Dr. John – Right Place Wrong Time
72. Canned Heat – On The Road Again
73. The Eagles – One Of These Nights
74. Santana – Black Magic Woman
75. Chambers Brothers – Time Has Come Today
76. Crosby, Stills & Nash – Helplessly Hoping
77. Neil Young – Southern Man
78. Tom Petty & the Heartbreakers – Free Fallin'
79. The Rolling Stones – Let It Bleed
80. Peter Gabriel – Sledgehammer
81. Sugarloaf – Green Eyed Lady
82. Hollies – Bus Stop
83. Eric Clapton – Forever Man
84. Warren Zevon – Werewolves Of London
85. Creedence Clearwater Revival – Susie Q
86. Sly And The Family Stone – Dance To The Music
87. Ozzy Osbourne – Crazy Train
88. Amboy Dukes – Journey To The Center Of The Mind
89. David Bowie – Rebel Rebel
90. Lovin' Spoonful – Summer In The City
91. Robert Palmer – Addicted To Love
92. Santana – Evil Ways
93. Bob Seger – Old Time Rock & Roll
94. The Beatles – I Should Have Known Better
95. Humble Pie – Thirty Days In The Hole
96. Kingsmen – Louie Louie
97. Ten Years After – I'd Love To Change The World
98. Joe Cocker – The Letter
99. Bob Dylan – Rainy Day Women #12 & 35
100. George Thorogood – Move It On Over
ENLACES INTERCAMBIABLES
[Fileserve/Filesonic/Uploaded/x7]: http://mytiny.org/SBTZGJBJ
Descargar Top 500 Classic Rock Songs [5 CD's] (2011) Gratis
Necesitαs estar
Registrado
para dejar comentarios en Top 500 Classic Rock Songs [5 CD's] (2011)
Posts relacionados con Top 500 Classic Rock Songs [5 CD's] (2011)