30 Seconds to Mars es un grupo de rock de los Estados Unidos, liderados por el actor Jared Leto, como vocalista de la banda. En 2002 lanzaron su disco homónimo, 30 Seconds to Mars. Sin embargo, han tenido más éxito con su segundo álbum, A Beautiful Lie. Actualmente lanzaron su tercera entrega con un muy buen exito llamado This is War el cual tiene ya un single: Kings and Queens El nombre de la banda proviene de una tesis escrita por un Profesor de Harvard. Una de las secciones de la tesis fue titulada "30 Seconds To Mars", habla sobre el crecimiento en la tecnología humana diciendo que literalmente estamos a "30 segundos de Marte". Para la banda eso significa, en resumen, la mejor manera de describir su música.
01. Capricorn (A Brand New Name)
02. Edge of the Earth
03. Fallen
04. Oblivion
05. Buddha for Mary
06. Echelon
07. Welcome to the Universe
08. The Mission
09. End of the Beginning
10. 93 Million Miles
11. Year Zero
12. Revolution
DESCARGA
http://depositfiles.com/files/w9idhgdcp
01. Attack
02. A Beautiful Lie
03. The Kill (Bury Me)
04. Was It a Dream?
05. The Fantasy
06. Savior
07. From Yesterday
08. The Story
09. R-Evolve
10. A Modern Myth
11. Battle of One
12. Hunter
13. The Kill (Rebirth)
DESCARGA
http://depositfiles.com/files/1u7tac63x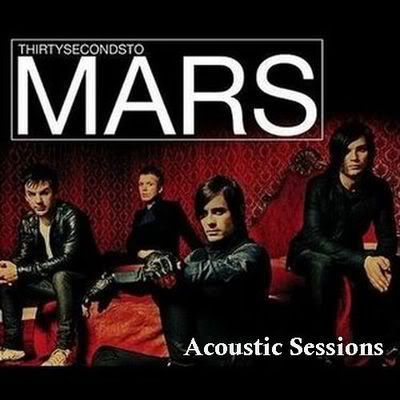 01. The Kill (Acoustic)
02. Was It A Dream (Acoustic)
03. Echelon (Acoustic Live)
04. The Story (Acoustic)
05. A Modern Myth (Acoustic)
06. Capricorn (Acoustic)
07. From Yesterday (Acoustic)
08. The Kill (Acoustic)
09. Message In A Bottle (Acoustic cover)
DESCARGA
http://depositfiles.com/files/75xeunozw
CD 1
01. A Modern Myth [Live At Daily Download]
02. Anarchy In Tokyo
03. Battle Of One [Live]
04. Buddha For Mary [Live Acoustic]
05. Buddha For Mary (Demo)
06. Capricorn [Live Acoustic]
07. Echelon [Live Acoustic]
08. From Yesterday [Live]
09. Message In A Bottle [Police Cover]
10. Oblivion [Live Acoustic]
11. Occam's Razor
CD 2
01. Phase 1 Fortification
02. Revolution
03. The Fantasy & Closer [Live]
04. The Kill [Live Acoustic]
05. The Kill [Instrumental]
06. The Kill [Live At Daily Download]
07. The Mission [Live Acoustic]
08. The Story [Live Acoustic]
09. The Story [Live]
10. Valhalla
11. Was It A Dream [Live Acoustic]
DESCARGA
http://depositfiles.com/files/l84nzed95
1. The Kill (Album Version)
2. Attack (Live at CBGB, July 2006)
3. The Kill (Acoustic, Live On VH-1)
DESCARGA
http://depositfiles.com/files/gdcy36bmw
1. Escape
2. Night Of The Hunter
3. Kings And Queens
4. This Is War
5. 100 Suns
6. Hurricane (Feat. Kanye West)
7. Closer To The Edge
8. Vox Populi (A Call to Arms)
9. Search And Destroy
10. Alibi
11. Stranger In A Strange Land
12. L490 (Equinox)
13. Night of the Hunter (Flood Remix)
DESCARGA
http://depositfiles.com/files/z30fy74tw